Whether you fancy yourself Clark Kent or Superman, you can show off your inner superhero with a Superman wedding cake topper. Couples who love this popular superhero can infuse their wedding cake with personality…
Keep reading »
Browse Topics in Wedding Cakes
Cakes created for a wedding range from classic buttercream tiers to modern-casual wedding cupcakes. The cake is a centerpiece of the wedding reception with many options available to ensure you find your dream cake design.
Wedding Cake Ideas and Inspiration
The wedding cake holds a sacred place in the dessert world, and couples usually consider a number of factors when choosing their cake, from their wedding theme to their favorite cake flavors. From simple cakes to more exotic cake options, browsing different types of cakes can make it easier to dream up the right one for your own wedding, which may feature:
Seasonal cake designs
Themed cakes
Modern trends
Whimsical cake styles
Designer and specialty cakes
Toppers are another great way to highlight your wedding style, so don't forget to include them in your plans as well.
Cake Alternatives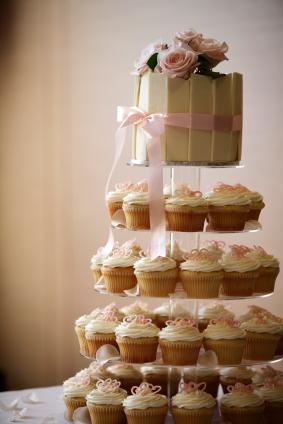 Maybe a regular cake isn't right for your wedding at all. Alternatives include:
Dessert bars: Some couples forego a traditional wedding cake in favor of a dessert buffet that includes a variety of pastries, petit fours and truffles.
Mini cakes: Set a miniature wedding cake at each guest table. Guests can serve themselves, and they do double duty as lovely centerpieces.
Cupcakes: Cupcakes have really become all the rage in recent years. Pick a gourmet flavor like Black Forest, and stack them elegantly on special stands.
Doughnut cakes: Your favorite doughnuts can be stacked like a cake or placed individually on cake stands for a non-traditional and ultimately less expensive wedding dessert.
Groom's Cakes
The traditional groom's cake has a special place, but today's brides are using creative options for this sweet treat. Find out the history behind the groom's cake, along with many different groom's ideas, such as hunting cakes, sports-themed cakes, and even humorous cakes.
Pick Your Flavor
You can go with a standard vanilla wedding cake if that's what you prefer, but modern brides have a world of flavors available to choose amongst. Chocolate wedding cakes are becoming more popular every year, but you might also want to consider other flavors like lemon and lime or raspberry. Your baker can even whip up custom flavors for the cake and add a second, complementary flavor with a layer of filling. In fact, each tier of your cake could be a different flavor combination - all disguised under the same elegant decoration.
Cake Tips
Don't forget to address the practical side of choosing a wedding cake. From finding the right serving set and cake stand to knowing just how to cut your cake, there are a range of small, but important, details to consider. Learn how to maximize your wedding cake budget, including how cake prices are established and how to use informal sheet cakes appropriately for your wedding.
Consider All Your Options
No matter how you slice it, the wedding cake is an important part of your special day. From choosing the cake design to the end of the cake ceremony, being informed of all the available options and details of this special dessert can make all the difference in the choices you make.