Buttercream Wedding Cake Designs
Beautiful Buttercream Designs
Designs for a special buttercream wedding cake inspire and help bridal couples decide what they want. Skilled cake artists love buttercream frosting since it allows them to create stunning masterpieces.
Instead of using traditional swag patterns on a cake, consider making small arches like upside down swags. This gives any cake a unique look worthy of any wedding celebration.
Colorful Swag Designs
Take a traditional swag design to the next level by tinting the frosting to match your wedding colors. This makes the design truly "pop" against an all-white cake. The swag here is created using a shell border technique.
Multiple Designs in One Cake
Having a buttercream cake does not limit your design options. Use multiple buttercream techniques within one cake to create a true masterpiece. Here, swags, shell borders, lattice work, and buttercream roses accented with leaves all come together to create an extravagant design.
Say It Simply
Once the top coat of buttercream has crusted, you have the perfect base for writing words. Consider a phrase like "yum yum" or "I love you" and have the decorator write it around the cake in your wedding colors.
Magnificent Monograms
If cutesy phrases are too whimsical for your wedding cake, consider utilizing your monogram on the cake instead. This is an elegant option that can also be used with other design elements like fleur-de-lis, scrollwork, and piped dots.
Basketweave Cakes
Basketweave designs are perfect for spring, summer, and early fall weddings. This is one technique that takes a lot of patience, so you may pay more for the design. However, the end result is truly beautiful.
Artistic Nature Design
Like a basketweave cake, an artistic take on Mother Nature's beauty is perfect for a spring or summer wedding. This cake features a caramel or chocolate buttercream base, with flowing green buttercream vines surrounding each layer. Small painted cake disks are attached featuring peacocks and butterflies.
Romantic Ruffle Cake
This cake offers couples a romantic look without a lot of fuss. It is created using the ruffle techinque with a stiff buttercream and angled so the ruffles stand outwards, not falling downwards like traditional ruffles. The flower accents take this cake to the next level.
Layered Buttercream Design
Instead of smoothing out the buttercream base before decorating, give the base itself a design element. The ridges here help cover up any imperfections a smooth base would show, while the scroll designs on top of the ridges add a layered look to this design.
Rustic Vertical Edged Cake
Give your cake an unfinished, rustic look, perfect for a country or outdoor wedding. This no-fuss design is easy for almost anyone to create using a large spatula and the right pressure. The simple design is a fresh take on many classic cake decorations.
Dot Trio Cake
Piping dots onto a wedding cake is an easy way to create a fuss-free design. Take it to a more elegant level by piping the dots on in small groups of three. Add ribbons in your wedding colors to match the flowers and finish the cake.
Star Dot Cake
Of course, a dot cake doesn't have to have perfectly round dots. Instead, use a star tip to create scattered dots all over your buttercream cake. Add a vertical border for interest.
Drop Flower Cake
Roses may be a traditional cake flower, but when you're working with buttercream drop flowers are easy and just as lovely. Use them as a border and scatter them haphazardly on the various tiers to create a beautiful design.
Simply Amazing Buttercream Cakes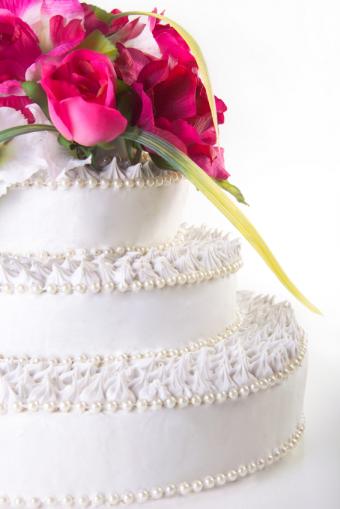 While an extravagant cake makes a statement, you can also wow your guests with a cake that has a few simple elements. This cake features drop stars with intentional peaks around the edges of each cake layer, with pearls creating a luxurious border. Top with a bouquet of flowers similar to the bride's bouquet, and you have a simple yet lovely cake.
Buttercream cakes taste great and look beautiful. However, you may want to consider fondant cake designs before you make your final decision. No matter what type of frosting you choose, your cake will be amazing.