Bridal Shower Decorations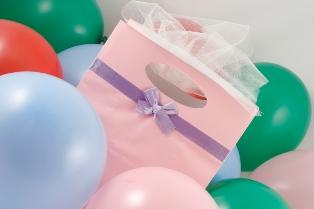 Finding decorations for a bridal shower opens a world of possibilities. You need to decide on the theme and then the color scheme. Some decorating ideas for a bridal shower include things like tableware and favors.
Bridal Theme
If the bride will be following a particular theme for her wedding, your decorating should come easy. Otherwise there are several ideas you can try.
If the bride isn't having a theme for her wedding, you probably want to go with traditional bridal shower decorations. Allow helium filled white and silver balloons to drift towards the ceiling. If you'll be decorating in the colors of the bridal party, do get balloons in those colors as well. Balloons with a pearl sheen add a touch of elegance.
Drape tables and chairs in the linens and throws dyed the bride's chosen colors. If colored linens aren't available, cover in lace. You can find yards of satins, silks and laces at your local fabric store.( Ask for discounted remnants to save money). If you'll be using white tablecloths, accent with colored napkins and tableware. Place matching favors at each plate.
If balloons aren't enough, feel free to drape fabric over the walls as bunting or implement crepe paper streamers. Just remember, there's such a thing as too much.
Beach Theme
If the bride will be having a beach wedding, you'll want to use beach bridal shower decorations. Planning a beach bridal shower is easy. Decorate with sea shells and tropical flowers. Use the colors of the ocean for your balloons and accents and hand out lei's to all of the guests so they'll blend in.
Princess Theme
Pamper the bride like the princess she is! Decorate the shower area with lots of luxurious throw pillows and fabrics. Offer her a tiara and lead her to a chair covered in satin or velvet.
Other Bridal Shower Decorations
Some other bridal shower decorations for you to consider:
A large white chair draped in lace or satin for the bride to sit in while she's opening her gifts.
An umbrella or parasol to hang from the ceiling or place elegantly in a corner.
A wishing well for small gifts.
Candles to help set the mood.
Crepe paper wedding bells.
Fresh flowers in decorative vases.
Mini gift wrapped boxes strung together to form a garland.
Where to Buy
When it comes to shower decorations, you're only limited by your imagination. If you're not sure what type of decorations to use, browse the aisles of look online for ideas. Your local party emporium, craft shop and discount mart are sure to have plenty of decorations. You can also check out some of these online retailers:
More Bridal Shower Articles