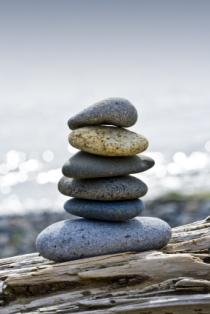 Using blessing stones is a popular choice in a beach wedding ceremony. Blessing stones are a wonderful way to unite family and friends in a simple, but meaningful gesture. There are many options when you incorporate this unique token of hope and love in your ceremony.
Wishing the Couple Well
The tradition of throwing rice is a well-known tradition dating back to the middle ages or earlier when guests would shower the new couple with the grain. The significance behind this act is that the rice shower represented abundance, fertility, or prosperity for the new couple. Guests, therefore, were dousing the couple with warm wishes for their future.
In contemporary weddings, this tradition has evolved in a variety of ways. Instead of rice, many couples opt for birdseed. Other alternatives include flower petals, bubbles, and confetti. For a beach wedding, blessing stones offer the same chance for couples to offer well wishes to the couple, while baring a unique twist that fits perfectly with a beach wedding location.
Blessing Stone Options
Like many contemporary traditions, the blessing stone ceremony can be incorporated into your wedding or reception in the way that you feel is most appropriate and meaningful for your special day. Many beach wedding packages include, or will include, blessing stones for a nominal charge. There are many different ways blessing stones can be used, including the following:
Pick a Wedding Toss
Rice:
Traditional
Dove or Butterfly:
Natural and organic
Blessing stones:
Spiritual
Rose petals:
Romantic
Tossing Blessing Stones
Tossing the blessing stones at a beach wedding echoes the gesture of throwing rice. At some point during the wedding or reception, each guest tosses a stone into the water with a blessing, wish, or prayer for the new couple. Couples can choose whether they wish the blessings to be silent or spoken aloud. The size of the wedding comes into play here: for a small wedding, spoken blessings can be very meaningful and appropriate, while silent blessings may be a more practical choice for beach weddings with extensive guest lists. Blessing stones may be tossed after, at some point during the ceremony, or following the ceremony at the reception.Wondering how to organize the blessing stones? Here are a couple ideas:
Request that each guest gathers a stone along the shore and tosses it during the wedding reception. A cute sign displaying the information, brief announcement, or inclusion in the program can ensure every guest knows to search for a stone.
Place a variety of clean stones in whimsical metal or plastic beach pails every few feet in the area where the tossing will take place. Guests can simply line up and take a stone to offer their blessing at the appropriate time.
Set a clean stone next to each place setting with a brief message about its purpose and when the blessing ceremony will take place.
As guests arrive, have ushers hand a blessing stone to each one a they are seated. This works well for a tossing immediately following the ceremony.
Beach Blessing Stones in the Marriage Ceremony
Blessing stones for a beach wedding ceremony can be highly appropriate and special when used during the official marriage ceremony in a unique way. Select family and close friends may wish to arrange a blessing during the ceremony, by coming forward and placing a blessing stone in a pail or decorative container and stating their blessings aloud. Alternately, each guest may hold a blessing stone and say a silent prayer or wish for the couple. The bride and groom may also share a blessing for one another.
Couples may choose to showcase a special stone and recite a blessing for their guests, families, or as a way to remember loved ones who have passed on. Blessing stones can also be a unique way to involve children in second marriages. The bride and groom can each say a special blessing for the children and place stones together to represent their unity; if children are old enough and at ease with the marriage, they may offer a blessing for the changing family as well.
Blessing Stones for Beach Wedding Keepsakes
Blessing stones for beach weddings don't have to be tossed on the water. Couples can incorporate this memorable item in many keepsake ways.
Attach simple cards to the stones and have each guest write a special blessing, wish, or piece of newlywed advice and leave the cards at the gift or sign in table. Alternately, use paper cut outs of beach stones for guests to write on.
Use blessing stones as décor for a beach wedding. Whether you choose clean natural stones or decorative glass stones from a wedding or party retailer, use stones to decorate as an added thematic element for beach wedding locations. Clear glass vases or bowls can be filled with stones as centerpieces. Stones can also serve as a paper weight for place cards and setting décor. Large stones can be used to set off walkways or certain areas of the wedding for a natural and thematic touch.
Blessing stones can be the perfect beach wedding favors. Blessing stones are available in many colors and may be etched with simple words and phrases that offer a special blessing to each guest from the couple. Couples can also personalize their own blessings for guests and attach them to the stones.
Where to Buy Blessing Stones for a Beach Wedding
While you can use natural stones for tossing and other aspects, brides may prefer purchasing stones for décor, keepsake, or favor items. The following shops carry blessing stones for beach wedding ceremonies: