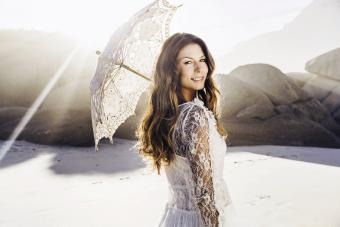 Using a beach wedding parasol can help you and your guests stay cool and add a touch of simple elegance to a sandy wedding theme. Parasols can be added to multiple areas of your wedding, from a bridal accessory to topping off a signature cocktail.
Purchasing Advice
Brides who want to use a parasol as a beach wedding accessory should choose one that reflects the tone of the wedding. Although a theme unto itself, a beach wedding might also be Asian-inspired or island themed. Weddings held on the beach can be informal gatherings or elegant galas. Pick out a parasol that reflects the overall tone of your wedding. Consider your beach wedding dress design and wedding colors when picking out a parasol.
Shopping Options
Classic white, off-white, and cream are popular choices for the bride, although she may choose something with a pop of color. Lace wedding parasols are also a traditional look, offering a feminine touch. Parasols for the bride typicall cost a little more than those for the guests or bridesmaids, anywhere from $15 to $50, depending on the intricacy of the design. Choices include:
Parsasols for Wedding Guests and Bridesmaids
A bride is not the only one who needs shade from the sun at a beach wedding.
Bridesmaid Parasols
Cute parasols make great gifts for bridesmaids, can be used in photos, and are a unique bridesmaid bouquet idea. Colored parasols are great choices for bridesmaids and can match the bridal party dresses. Brides who want to add a personalized touch to the wedding can have their bridesmaids each paint a simple design on their parasols prior to the wedding. Use stencils and have a select number of colors to ensure they all match. Do this as part of a bridesmaids luncheon, spa day, or other girls' day out.
Guest Parasols
Guests will appreciate parasols, as they often arrive early for the ceremony and must sit in the warm sun. Place parasols at the end of the main aisle in buckets for guests to take as needed, or alongside each seating row.
Purchasing Options
Keep your budget in mind when purchasing parasols for guests to use. Even bridal party parasols can be found cheaper than a bride's beach wedding parasol, helping you stay in budget. Look for parasols that come in under the $10 mark to make them affordable for maids and guests. Consider any of the following parasols:
Paper Parasols - Low cost paper options come in a variety of colors and some even feature designs like blossoms or cranes.
Solid Color Scalloped Parasols Umbrellas - Select from 12 different colors of parasols that have a lovely scalloped edge.
Tropical Parasol - Give these parasols with tropical sunset designs out at a casual, fun wedding for guests to keep after the ceremony is over.
Incorporate Parasols Into Your Beach Wedding
Parasols don't have to be held to include them in your wedding. Use small parasols as accessories throughout your event. For example, before the ceremony starts, pick out beach wedding invitations and programs featuring parasol graphics.
Ceremony Ideas
Add parasols to the ceremony in the following ways:
Prop a miniature parasol on the guest book table.
Top altar flowers with parasols that cover the arrangements.
Have the flower girl carry a parasol down the aisle.
Bridesmaids can carry mini parasols with flower blooms in lieu of traditional beach bouquets.
Line the aisle with open parasols instead of floral arrangements, shepherd's hooks, or other decorations.
Reception Ideas
Decorating for the beach reception offers plenty of ways to incorporate parasols as well:
Add parasols to the corners of bridal arches and canopies covering an outdoor dance floor.
Hand out parasols as your wedding favors.
Include parasols in wedding cocktails.
Place small parasols in your reception centerpieces.
Decorate behind the head table with parasols.
Hang parasols from the ceiling at an indoor reception or beach wedding tent, or hang them from trees at an outdoor beach reception.
Sunny Day Accessories for Beach Weddings
Parasols make a great addition to your beach wedding theme. Whether you simply use them to keep the sun off your shoulders or you add them throughout the festivities, they add a little something extra to your wedding.