A wedding cake design for a beach-themed wedding can be as simple as seashells or an extravagant tropical floral display. Consider the wedding dress, color scheme, flowers, and other decorations when you shop around for the perfect cake to celebrate your beach nuptials.
Beautiful Seashell Cakes
One of the favorite motifs of beach brides is seashell. Seashells can be incorporated into a beach wedding cake easily in a variety of ways. Seashells can be created from icing, marzipan, molded chocolate (dark, milk or white chocolate) or other candy. The colors can be natural or in any shade the bride desires. Some wedding cake designers even incorporate real seashells into their creations.
Shells can be used as a key part of the design, or as a subtle accent. If you want to use them as an accent, make sure to use naturally colored varieties that will not overshadow the other elements of your cake. Consider using seashells with real flowers such as roses for an elegant and natural wedding cake design.
Tropical Flowers
One of the most stunning elements of a beach wedding is often the abundant tropical flowers. Whether your cake designer uses fresh blossoms or creates flowers from icing or other edibles, flowers can adorn your cake in bouquets, cascades or elegant edgings.
Elegant Coral Decorations
Coral is one of the most beautiful ocean features and is seldom used in cakes. That's unfortunate because its intricate designs, vibrant colors, and natural beauty make it a phenomenal choice for a special occasion dessert. Many engaged couples skip coral when thinking about how to present a cake with a beach theme because they may not realize that coral comes in an incredible variety of patterns and shapes. Although an initial thought from brides and grooms is that a cake would look strange when studded with buttercream coral formations, coral is actually a fantastic fit due to the lovely, understated designs that pair well with flowers and more traditional wedding cake decorations.
Seaweed
Seaweed may not scream "elegant" and "classy" to most people, and it certainly isn't a conventional decoration choice for a wedding cake. However, a skilled decorator can make soft green icing wisps and curves look lovely on any cake, especially against a stark white buttercream background. The design choice is especially appropriate for a spring wedding or a celebration that uses any shade of green as part of its color scheme.
Check out a few pictures of different types of seaweed to get ideas for how your finished cake could look. Bring your favorites to a decorator, and consider fleshing out the beach theme further by adding starfish or shells made with royal icing or gum paste to your cake.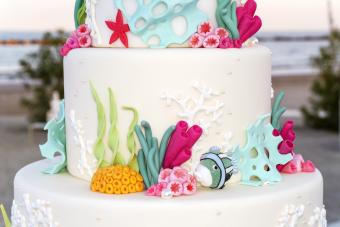 Sea Life Inspired Beach Wedding Cakes
Some of the creatures of the sea offer the basis for wedding cake inspiration. For example, what dolphin-loving bride wouldn't love a wedding cake topped with waves crafted of curls of white chocolate and molded chocolate dolphins.
Create a pearl-finished cake topped with an open oyster shell confection. The shell can hold a miniature bride and groom, rings or other wedding icons. Other popular sea creatures include sea horses, mermaids and sea stars.
Sandcastle Wedding Cakes
The most delicious sandcastle you have ever tasted could be your wedding cake. A baked confection in the shape of a sandcastle - as elaborate as you can imagine - is the perfect cake for a playful couple. If you use a natural colored sandcastle cake, you can use brown sugar for the "sand" and place seashells around the base of your castle.
Other Beach Motifs
Brides with beach weddings can find inspiration for their wedding cakes in nearly anything. Consider the location where you plan to hold your wedding and allow it to give you ideas. For example, a scenic lighthouse, lovely inlet or array of palm trees may all be the best decorations for your beach wedding cake. Those into surfing, boating or other water or beach sports may want to draw their designs from their hobbies. Imagine a cake with the perfect wave and bride and groom surfers in wedded bliss riding the crest. Addicted to beach volleyball? Your wedding cake can sport a net and sand. Water is of course a key element in many beach cake designs, whether on its own or paired with sand and other architectural elements.
If your beach wedding is a casual affair, you might want to think about portable types of wedding cake. Cupcakes and petit fours are both great for more casual weddings and are easy to serve; they can be decorated with any of the beach themes above.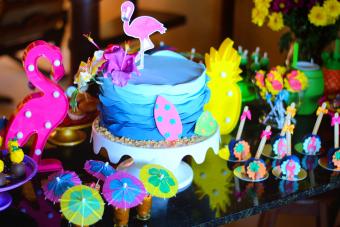 Beach Themed Wedding Cake Toppers
The perfect topper can help you create just the look you want on your cake.
What do you think of when you think of wedding cakes with beach themes? Chances are, if you're thinking of having a beach cake, you may not have considered all of your options yet. There are so many! No matter how whimsical or serious your ceremony is going to be, you can find the perfect topper for your cake-with a beach theme.
Seashells (chocolate, if you wish!)/Sand dollars
Bird figurines
Palm trees
Adirondack chairs
Dolphins
Seahorses
Starfish
Sailboat
Since anything untraditional is not likely to show up on the aisles of any old arts and crafts store - or even a store that caters more to the special events collections - here are some places to start looking for the perfect beach themed wedding cake toppers for you:
That's My Topper Beach Cake Tops
That's My Topper has fantastic beach-specific toppers like
Barefoot on the Beach
Tropical Bliss
Tropical Dreams
They also carry more traditional cake toppers if you prefer that type.
Beach Toppers from Wedding Whimsy
Wedding Whimsy is another great place to start your search. Their styles include:
Starfish and Seashell
Seashell Wedding Bride and Groom
Seahorse Soulmates
Beach Wedding Sandcastle
Dolphin
Sailboat (with Bride and Groom)
All of these styles are made of neutral, blue, and tan colors, so they're perfect for a beach theme. If you're having a daytime wedding on the beach, they will pick up the colors of the surroundings beautifully, and emphasize the serenity of the scene.
Can't make up your mind what kind of beach wedding cake to have? Browse through many pictures of wedding cakes or look at these beach themed cupcakes before you make your decision.