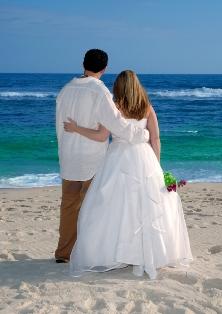 The top destinations for any bridal couple planning a beach wedding include Hawaii, Florida and the Bahamas. A few resourceful tips can help you choose the perfect, romantic sandy beach to host your surfside wedding.
Top Beach Wedding Destination Options
Not all weddings take place in the confines of a traditional church. In fact, an increasing number of engaged couples are seeking to start their lives together as husband and wife in the great outdoors complete with lapping waves and swaying palms serving as their sanctuary. If you are looking for an unforgettable beach wedding destination, then consider going to a popular destination wedding location.
Hawaii
This incredible island paradise has been hosting beach weddings for decades. With its world famous beaches, its crystal clear waters and tropical breezes, Hawaii offers the perfect setting for a scenic vow exchange. What's more, since the state consists of eight major islands, you have your pick of several outstanding beaches where you and your beloved can take the plunge.
Maui, the Big Island of Hawaii, Lanai, Oahu and Kauai are the most popular islands in which to wed on the beach. All feature top-rated resorts that offer wedding packages that typically include:
Assistance obtaining your marriage license
Services of an officiate
Flowers
Candles
Music
Photographer
Cake
Champagne toast after the ceremony
Most resorts in Hawaii also offer full-service, luxury wedding packages, which provide everything from a wedding planner to an amenity-filled reception on the beach and honeymoon accommodations.
Florida
Marry in Cocoa Beach, Florida.
Florida is known for having some of the most picturesque beaches in North America. In addition, the waters around the Sunshine State are among the safest in the world thanks to their shallow waters and gentle waves. These elements combine to make oceanside cities in Florida pristine venues for a beach wedding to remember.
Cities, such as Fort Myers, are a hot spot for couples looking to get hitched on the sand. The area's laid-back atmosphere, budget-friendly resorts, top-rated restaurants and eclectic nightlife offer a cosmopolitan setting for an unforgettable wedding. What's more, since beach weddings are so common in the state, it's easy to find local wedding packages that can be tailored to meet your wishes and budget. For those who are looking to fully immerse themselves in the sun, sand and surf, Fort Myers offers a beach wedding cruise to Useppa Island where you can celebrate your nuptials amid the splendors of Florida's tropics.
The Caribbean
From Jamaica to Aruba, Saint Lucia to Turks-and-Caicos, the Caribbean offers some of the most sought after beach wedding destinations in the world. The island nation features unprecedented views as well as a fascinating culture and history. Beach weddings take place in the Caribbean at a staggeringly high rate, which means that while you won't have a problem finding multiple vendors to choose from, you will have to set a date well in advance if you want to be sure that your beach venue isn't already taken.
Some beaches are more popular than others for weddings. For example, Palm Beach in Aruba is a magnet for couples to exchange vows. The area is home to several top-rated resorts which boast immaculate white sand, as well as gorgeous man-made pools and waterfalls. Other popular beach wedding destinations in the Caribbean include Lime Cay, Turtle Beach, Blue Lagoon Beach, Handicurari Beach and Punta Brado Beach. Each offers unique features, such as dramatic coast lines and colorful fish.
Europe
The tropics aren't the only home to top beach wedding destinations. Europe is teeming with dazzling beach venues. For example, the French Riviera boasts stunning orange cliffs, golden sands, and turquoise waters. Weddings here overlook the Mediterranean, which also serves as the idyllic setting for upscale hotels that feature some of the most luxurious wedding packages in the world.
A typical beach wedding package at a French Riviera hotel includes a romantic vow ceremony complete with floral arrangements and decorations, plus a seaside dinner reception and dancing at a popular beach club. Also, don't overlook Cannes. The hotspot for the rich and famous is home to the Croisette, which is where all the best beachfront hotels are located. Just remember that not all European beaches are filled with powder soft sand; rather, many feature pebbles, so be sure to plan accordingly.
Beach Wedding Tips
A beach wedding can be one of the most magnificent experiences of your life. Since your venue is outdoors, you are not limited to traditional details. This allows you the freedom to design the wedding of your dreams. You can opt for unique beach locations. However, if you decide to get hitched on a secluded stretch of sand, be sure to consider the safety and comfort of your guests. Finally, for an intimate and romantic beach wedding you might consider timing your first kiss as husband and wife to coincide with the sunset. This can only happen with advance planning, so be sure to do your homework before celebrating the start of your new life on the beach.