Armani wedding dresses are a gorgeous way to add some decadent style to a formal wedding ceremony and reception. With years of notoriety in the fashion industry, Armani continues to impress with some of the classiest gowns paired with a designer label.
Who is Giorgio Armani?
An Italian designer born in the 1930s, Giorgio Armani got his start in the fashion industry as a designer for a famous fashion house in Italy. After nine years, he went on to pursue his own freelance designs and with a partner named Sergio Galeotti he successfully launched a menswear line. A women's line quickly followed, with the help of his sister Rosanna Armani.
With his designs doing well, he began to earn a true American name for himself when Hollywood took note of his talent. He designed outfits for both movies and the public appearances of various stars, and he is now known as one of the world's most successful overseas designers alive today.
The Allure of Armani Wedding Dresses
Stars continue to be enraptured by Armani's signature look of glamour and style, sometimes to the point they include the designer's creations on their wedding day. Since this is often the biggest day of their lives, Armani has made himself available in the past to dream up the perfect couture gown for some of Hollywood's elite.
Stars with Armani Gowns
And happily, sometimes the stars come to his own stomping grounds. For example, when Tom Cruise and Katie Holmes were engaged, Armani designed the wedding attire. As a bonus, it just so happened the couple married inside a castle located in Armani's native Italy. For Holmes, Armani obliged her request for a simple yet elegant dress with a slim silhouette and plenty of layered fabric. The end result was an off-the-shoulder dress with a silk train infused with lace and crystal embroidery. An ivory silk train finished off the picture perfect look, and the wedding photos of the gown went down in media history.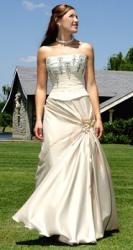 Armani also designed a dress for the then 7 month old Suri, taking a cue from the bridal gown with plenty of layers of organza in which to dance and twirl.
Oscar winner Mira Sorvino also used Armani for her wedding in 2004. Just like many of the famous Armani wedding gowns, Sorvino's included a slim cut with plenty of satin and beading. Armani also designed the groom's suit for this couple's big day.
Where to Buy
You don't have to be a celebrity to enjoy the incomparable style of Armani wedding dresses. In fact, you can have one for yourself if you have the cash to spare. You can order through his couture line, called Armani Prive, or shop his stores found in New York and Paris, as well as other major fashion cities.
Attending a runway show where Armani is featured is another way to inquire about a specific dress you have found you've fallen in love with. Again, you'll have to be prepared with an impressive bank account balance, and get yourself into an exclusive event, but if you manage to do so, then the dresses will be at your fingertips.
---
If you feel too "average" for such an endeavor, Armani bridal gowns are sometimes available through auction sites such as eBay. Celebrities and the designer himself also sometimes auction previously worn gowns at various charity benefits. The trick is to always keep a look out for Armani-featured events, via both the Internet and fashion publications. Lastly, bridal magazines sometimes feature Armani wedding dresses and bridesmaid gowns as well. Check the listings of the most recent issue of your favorite magazine to see if any Armani stores, factories, or outlets are listed.