Popularized largely from its appearance in the 1989 film Steel Magnolias, an armadillo grooms cake takes an interesting twist on the grooms cake.
About Grooms Cakes
The tradition of grooms' cakes began in the southern states, and was originally a dark fruitcake that was packaged in individual boxes and given as gifts. Wedding favors have taken this honored place in the wedding, and the grooms cake has evolved into a tradition for brides everywhere. Contemporary weddings often plan for a special cake for the groom, which is often served at the rehearsal dinner. It may also be served at a bachelor party or at the wedding itself at the cake, dessert, or Grooms table.
Modern grooms cakes come in a huge variety and assortment, although they are typically not a white cake like that served at the wedding. Anything from cheesecake to dark chocolate to cupcake grooms cakes can be used. Shapes, styles, and design ideas for grooms cakes are often something unusual, interesting, masculine, or reflecting the personal interests or hobbies of the groom-to-be.
Armadillo Grooms Cake from Steel Magnolias
Steel Magnolias was originally an off-Broadway play, made into a hit movie by Tri-Star Pictures in 1989. The comedy-drama takes place in Louisiana and stars an incredible cast including Dolly Parton, Sally Field, Daryl Hannah, and Julia Roberts, among others. It explores the bonds of women, and the armadillo grooms cake debuts. The armadillo cake is made for the wedding of Jackson (played by Dylan McDermott) and Shelby (played by Julia Roberts) by Jackson's Aunt Fern.
The popularity of the movie, the uniqueness of the cake, and the comedic lines surrounding the cake in the movie have made the armadillo grooms cake popular years after the movie's release. People choose armadillos as a grooms cake for reasons other than its appearance in the movie, of course. Many Texans embrace the armadillo as a mascot, since it is the state mammal of Texas. Randolph Community College in North Carolina claims this armored creature as a mascot along with other schools across the country. Whatever your reason for coveting an armored gray critter cake, it is sure to be charming.
The Bleeding Armadillo
Since grooms cakes are often fun, quirky, or unique, a bleeding armadillo cake can be a perfect choice. In Steel Magnolias the type of cake makes it appear as if it is "bleeding" when cut into slices. The type of cake used to achieve this effect is a red velvet cake, which is a rich, sweet cake that can be made with or without chocolate flavoring. Instant red velvet cake mixes are widely available in supermarkets, and recipes are also available.
The exterior of the armadillo is often made with a butter cream or cream cheese frosting that is colored to resemble an armadillo. While the cake in the movie was made with grey frosting, frosting can be white, black, brown, or other shades. Fondant frosting is used in some armadillo cakes to lend a smoother appearance, and airbrushing used to add detail. The back of the cake may be detailed with score marks or frosted to resemble an armadillo's scales.
An armadillo cake can be served on top of a sheet cake if necessary to accommodate more people for a large wedding party or if served at the reception. Surrounding details can include frosting or plastic grass, insects, logs, and lizards to evoke an armadillo's natural surroundings. Other cakes are shaped as if the armadillo is lying flat on the ground.
Purchasing an Armadillo Cake
Many bakeries will make a grooms cake with your specifications if an armadillo is what you're after. Bakeries that specialize in groom and wedding cakes may already be familiar with an armadillo cake or may have designed one before. Since cake and frosting designs differ, you may want to ask to look at pictures and clarify details prior to ordering.
The following bakeries advertise armadillo cakes and have grooms cake pictures, as well: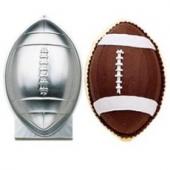 Wilton Football Pan available at Amazon.com
Making the Cake
Since an armadillo cake requires a bit more work than a standard sheet or round cake, it may be best reserved for experienced bakers. For those willing to try, the cake can be made using a football cake pan as the base and using a mix or recipe for red velvet cake. The head, arms, legs, and tail, can be made from using sections of a loaf cake or from rolled fondant or butter cream frosting. Petal dusts, available at many bakery suppliers, can be used to add sheen to "scales" of the finished cake.
All in One Bake Shop also offers a recipe and full instructions for an armadillo cake, making it possible for anyone to enjoy this unique type of tribute to the groom.