Appropriate colors to wear to a wedding include colors that will allow you to blend in with everyone else. This is the bride's day; bright colors or patterns that draw attention to you are among colors not to wear to a wedding. Of course, avoid wearing white unless it's specifically requested by the couple.
Best Colors to Wear to a Wedding
If the bride has no preference, then any color of the rainbow is appropriate for weddings, as long as you consider the event carefully. Even white is acceptable if the bride specifically asks the guests to comply. If the bride doesn't specifically say what guests should wear, there are a few things you can consider to help you choose. The formality, location, and seasonal weather will all be key factors in determining your best outfit.
Formal Wedding Attire Colors
Formal wedding invitations indicate that the bride prefers traditional wedding guest outfits, but do not assume that a casual or trendy invitation means that you can wear jeans to the wedding. The time of day will indicate what type of formal attire is appropriate. Women should wear a pants suit or knee-length dress for formal weddings scheduled before 6:00 p.m.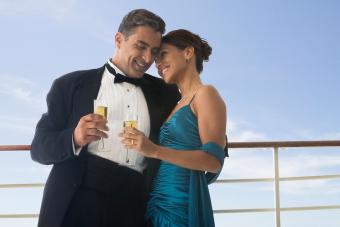 How to Select Colors
You may choose to wear any color except black or white. The guest's goal should be to blend in with the surroundings and let the bride shine. As her guest, you should avoid attire that could be considered informal or in bad taste. Pastels, jewel tones and earth tones are excellent choices, as are most primary colors.
Evening Hues
A wedding after 6:00 p.m. dictates a more formal evening atmosphere where long gowns are appropriate, in jewel tones, navy, or even metallic gold or silver. You can wear black to the wedding because guests of this type of wedding are expected to glam it up for the event. Men should wear suits and ties during the day and a black or dark navy blue tuxedo at night.
Informal Wedding Clothing Choices
An informal wedding suggests that the bride is okay with a variety of clothing choices.
Women
Generally, a woman should wear feminine clothing that is neat in appearance. A cocktail dress or business suit in various shades is a perfect choice for informal weddings. Black should be avoided in favor of neutral tones and solid colors. Prints can be worn if they won't cause a distraction; a garish yellow, fuchsia and orange dress is usually inappropriate.
Men
Male guests should wear a nice dress shirt and slacks paired with a sports jacket, in matching colors like brown and beige. A black suit and modest tie are acceptable if the wedding is after 6:00 p.m.
Seasonal and Destination Weddings
The time of year will also dictate what should be worn to a wedding. While color choice is still important, certain locations and seasons change the rules.
Cold Weather Colors
For chilly outdoor weddings, guests should choose clothing appropriate for the weather. A nice dress paired with a shawl or sweater and low heels is acceptable in these cases. Your goal is to minimize the chances of fighting with Mother Nature, so avoid fabrics that can be caught in the wind and heels that may cause you to fall on icy patches. However, if it's not windy, feel free to don a longer dress for warmth, especially if it's a formal wedding. Men should wear a cleanly pressed dress shirt and slacks during the day, paired with a blazer or sport coat for evening weddings. Jewel tones and darker colors, like emerald, plum, burgundy, deep red, and dark blue, are good choices for cold-weather wedding attire.
Warm Weather Options
Beach weddings or other tropical themed weddings require the guests to dress accordingly. For these occasions, consider breezy attire for women and a silk shirt and khakis for men. Bright colors, like fuchsia and lime green, are more acceptable at beach weddings or outdoor summer weddings than more formal indoor events. Wear red to a wedding, if it suits you, but do make sure the style of the dress is appropriate.
Colors You Can't Wear to a Wedding
Brides often state they want their guests to be comfortable. However, the rule is that you're allowed comfort as long as it doesn't make others uncomfortable. Knowing what colors not to wear to a wedding is just as important as knowing what is appropriate to wear to a wedding. Clothing in sheer fabrics and lighter colors can often create a fashion faux pas at a wedding. Err on the side of formality and subtlety when in doubt.
White
Off white or ivory
All Black
All Red
Gold
Overly sparkly or heavily metallic
Bridesmaid dress color
Mother of the bride or groom dress color
Avoid colors that resemble or coordinate with the wedding colors unless you are told otherwise. Also, remember to avoid white unless you are specifically asked to don that color by the bride and groom. More traditional couples may also have an aversion to black, so check with someone close to the couple before choosing an all-black ensemble for an afternoon wedding.
Classic Attire and Colors
If you are ever in doubt about what colors are okay to wear to weddings, choose conservative, classic attire. A simple dress for women and a dark suit and tie for men are almost always fashionable. Once you have carefully and thoughtfully selected your clothing for the wedding, relax. The bride and groom will be happy that you came to share in their special day.