Taking Backyard Wedding Photos
A Beautiful backyard wedding demands candid photos. The right photographer can ensure you have many great poses and unstaged, natural pictures of your important day!
Couples getting married in their own backyard may want to showcase their first home together. Sitting on the lawn with the house serving as a backdrop is a wonderful way to commemorate that first home purchase as a couple.
Home of Parent or Grandparent
Many couples end up getting married in their parents' or grandparents' backyard. Take a moment or two and have individual portraits taken in the backyard with the home behind you. Wonderful memories spent in that backyard will come flooding back whenever you look at the picture. Give the person a photo of you and your spouse, or just yourself, in the backyard as a thank you gift for allowing you to use the yard as a wedding location.
Backyard Weather Photos
Weather factors into every backyard wedding. Instead of fretting about how outdoor photographs will be ruined by inclement weather, include it in your portraits. Wear galoshes and carry an umbrella in rainy weather, have a cape reserved in case of chilly weather and have sunglasses and a parasol ready for sunny summer afternoon backyard photos.
Get Everyone Involved
Include everyone in your backyard wedding photos. Get the bridal party involved by doing some fun poses, like jumping up and down or wearing snappy shades. The comfort of being in a familiar backyard, rather than an unfamiliar or uptight hall or center, can loosen everyone up and create stunning snapshots.
Include Home and Yard Features
Don't be afraid to utilize your home and landscaping. If the backyard has a beautifully finished deck, why not include it in your photos? Pose near ponds, in gardens or in front of gazebos that are in your backyard - no further decoration is necessary. The natural beauty will shine through in the photographs.
Whimsical Photos
Add a little whimsy into your backyard wedding photos and have them taken on your favorite childhood toy. Perhaps your mom and dad brought over your bikes, still have your swing set up or found your little red wagon. All of these elements make great photograph props and are easy to retrieve because you're in your own backyard.
Cornfield Photos
Couples getting married in a rural area during late summer or early fall have the perfect rustic setting for a portrait - the cornfield just past the backyard. Walk a row or two in and have the photographer pose you amongst nature's bounty for a country picture sure to please anyone with downhome taste.
Backyard Wedding Planning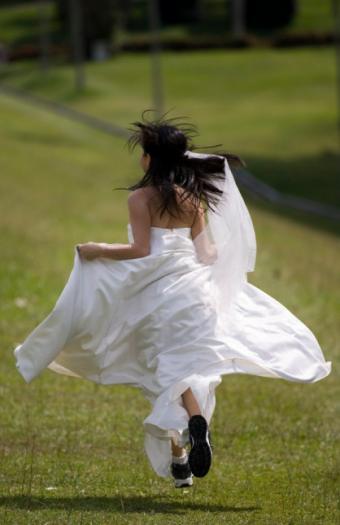 Remember that being in a familiar backyard means that your imagination can run wild with photographic possibilities. It may be best to send current snapshots of the location to your wedding photographer, or invite him or her to the backyard, prior to the wedding, so he can plan the best shots before arriving.
Get help planning your perfect backyard wedding with the advice in these LoveToKnow Weddings articles: