Tips on Wedding Favors by Gracious Bridal
LoveToKnow welcomes Brenda Cascio, Founder of Gracious Bridal Favors & Gifts, for this exciting interview. Brenda talks about the company's services and offers advice to brides.
About Gracious Bridal Favors & Gifts
Based in Austin, Texas, Gracious Bridal Favors & Gifts is a web site that specializes in wedding favors, gifts and decorations to help couples make their wedding special. The site has a large selection of bridal favors, wedding party gifts, and decorations for the ceremony and reception as well as personalized stationery. The company also provides wedding planning advice articles and a blog to help couples.
Gracious Bridal Interview with Brenda Cascio
When Brenda started Gracious Bridal, she never imagined that it would grow into the major bridal favor and gift resource it is today.
Hurricane Rita Leads to a New Business Venture
LoveToKnow (LTK): What is the founding story of Gracious Bridal?
Brenda Cascio (Cascio): I am an artist, and also a serial entrepreneur, having started businesses before. In September 2005 I was preparing for a group art show in Beaumont, TX with four other female artists with whom I shared a studio space.
Hurricane Rita was looming in the Gulf, though we thought little of it. Everyone was still reeling from Hurricane Katrina. We discussed that we would evacuate for a couple of days, and return for further planning. However, Mother Nature had another plan.
When I was allowed to return to town by the National Guard, I went home, checked on the house. We had quite a bit of damage. I stopped at my studio on the way back out of town, and it looked fine from the outside. Once I opened the door, I could see sky again, the roof was gone, the ceiling collapsed, and all of our art work and supplies were destroyed. In the wake of Hurricane Rita, no studio space could be found, and I was in desperate need of doing something creative, so I thought an Internet business, would fill that niche - designing the website, and focusing on bridal, which I certainly enjoyed, having some previous experience in planning weddings.
My daughter, Audrey, in Austin came on board, and would help processing orders each evening after work. We quickly relocated the business to Austin. Audrey joined the company full-time in June 2007, and has taken over as President, managing the staff and running the day-to-day operations, freeing me up to enjoy the creative designing aspects.
Gracious Bridal Services and Unique Products
LTK: What types of bridal items can brides find at Gracious Bridal?
Cascio: At Gracious Bridal, we provide all the details that make a wedding uniquely personal. We are a secret-source for many top event planners and bridal consultants. We help brides tie all aspects of their wedding together, from the first save-the-dates, to the final thank you notes. Perhaps a bride is having a wedding in a vintage theatre, we can provide custom personalized popcorn boxes. Or maybe she wants simple elegance. A recent bride tucked a beautiful cotton handkerchief, embroidered with "Thank You" in each of her ceremony programs.
LTK: According to the website, there are a number of bridal items unique to your site. What are these unique items sold exclusively at Gracious Bridal?
Cascio: Our most popular unique item is the Wedding Welcome Kits for out of town guests. They are available in a variety of styles and colors, and a wonderful thing to await your guests at the hotel filled with all sorts of goodies and local treats. Throw in a map of the city, and it's all inclusive.
LTK: What separates Gracious Bridal from other online bridal favor and gift shops?
Cascio: Essentially, we are editors. We don't offer thousands of tacky imported favors. From the multitude of items out there, we cull only the best, what we would want to see at our own events, and present it to our customers. These items may be quite inexpensive, or utterly extravagant, but the items will be of quality, and a bride can confidently choose, knowing that it has met rigorous standards. We work closely with harried brides and consultants to determine what exactly they are going for, and then building upon that idea. This is not a large impersonal warehouse business, but one that operates by the golden rule, and with staff that will bend over backwards to meet a customer's needs.
Personalized Bridal Items and Custom Orders
LTK: Gracious Bridal specializes in personalized bridal items. How can brides personalize their wedding favors, decorations and gifts?
Cascio: Easily! So many items are personalized now, and that is what gives each wedding its own flavor and personality. Bridesmaids' gifts can be monogrammed in embroidery or etched on the surface. Our personalized Jon Hart Grande Bag is an inexpensive yet ultra-high quality gift. Personalized Wine Bottle Labels take the rehearsal dinner or reception up a notch, and everyone loves the personalized wedding favors; even our decadent chocolate covered Oreos can be monogrammed!
LTK: How do you generally approach custom orders?
Cascio: Personally! We are really nice people to work with, and love to help someone make their wedding unique. It might be custom labeling for a late-night snack at the end of the reception, or for the recent wedding of a LA couple, custom cocktail napkins with a specially designed monogram embroidered on each.
In fact, many custom items are not even on our site; they are an idea that the bride or consultant may have, or something that we think would work well for that event. That's the beauty of being a boutique operation; we don't have to go through layers of management to go outside the box.
Home of the Original Bridesmaid Cookie
LTK: Gracious Bridal is the home of the original "Will You Be My Bridesmaid" cookie. Please describe the cookie and story behind this special cookie.
Cascio: Brides are looking for creative ways to invite their dearest friends to be in the wedding. The excitement of the wedding journey begins with this invitation. I wrote the poem for a friend's daughter, and it translated perfectly to the cookie! Because wedding parties today are scattered across the US, many brides have them shipped directly to the bridesmaid, and these cookies travel quite well. They are so delicious too, all-natural ingredients, custom made by a wonderful baker here in the south.
Wedding Advice, Blog and Live Chat
LTK: You also offer helpful wedding advice to brides in the "Wedding Questions and Answers" section. What kind of advice can brides find on your site?
Cascio: Sometimes people just don't know who to ask those sticky questions such as: "My parents can't be in the same room together, how do I seat them at the ceremony?"
LTK: The "Articles and Ideas" section of the site also offers helpful wedding planning information. What can brides learn in this section?
Cascio: Our most popular article is "How to Tell if My Pearls Are Real". We have practical articles of particular interest to brides.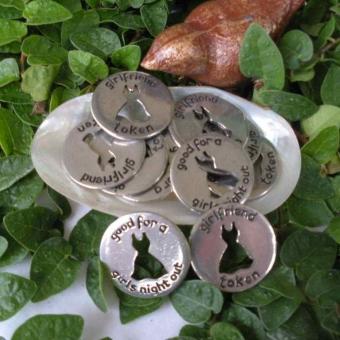 LTK: Does the Chat feature allow customers to interact with other site visitors or chat live with customer service?
Cascio: During business hours, we chat live with customers from all over the world. Many people find that easier and quicker than phone calls. After business hours, it will link to an email which is answered promptly.
LTK: What does the Gracious Bridal Wedding Blog offer brides?
Cascio: Updates on the latest wedding news. It might reference a celebrity wedding, a popular trend in weddings, or polling our readers.
LTK: Do you have any additional wedding planning advice for brides that you want to include?
Cascio: The most important advice is to enjoy the ride. It will be over before you know it, so make sure you have taken time to dot the i's and cross the t's! Don't fret about the exact color of celadon for the napkins, or even the bridesmaids' shoes. Just relax and realize these aren't the important things, and most people will not notice it. They will notice a relaxed, gracious bride who is basking in the love from all of her guests.
Thank You Brenda Cascio
LoveToKnow thanks Brenda Cascio for the delightful interview and wishes her the best in all her future endeavors. To learn more about Gracious Bridal, visit the official web site or their blog.