Brides should explore the top designers when shopping for a wedding dress. Finding your wedding dress is one of the biggest highlights in planning your nuptials and the top ten designers know how to create that enchanting and memorable gown!
Ten on Top
So what does it take to rule the wedding dress design industry? Check out these top 10 designers and what makes their designs stand out from the rest.
Vera Wang
At this point in her career, the name Vera Wang is nearly synonymous with the words 'wedding dress.' And considering her history, Vera Wang is a total shoo-in for best in the business. A figure skater turned fashion designer, Vera Wang got her start as a senior fashion editor for Vogue before joining Ralph Lauren, where she worked as a fashion director for several years. Vera Wang is also often considered the wedding gown designer to the stars, designing gowns for celebrities such as Kim and Khloe Kardashian, Alicia Keys, Chelsea Clinton, and Jennifer Garner.
Why She's on Top
Vera Wang was the recipient of the Council of Fashion Designers of America (CFDA) Lifetime Achievement Award for 2013 - pretty major stuff! If it's sophistication you're looking for, then Vera Wang is your woman. She pays special attention to details that gives her gowns a feminine touch. Another thing that really sets Vera Wang's wedding gowns apart from the competition is her use of dramatic yet modern features. With her long list of celebrity clients, her unique style and custom designs attract clients that want to wear unique and sophisticated gowns on their special day.
Where to Find Her Dresses
Vera Wang has her own set of stores where she offers her wedding gowns and other wedding accessories. Her flagship stores can be found around the world. In the U.S., Vera Wang has boutiques in New York City, San Francisco, Chicago, Los Angeles, and Boston. Foreign locations include Kuwait, Russia, Australia, Canada, and Greece. She has also designed a special collection for David's Bridals, called White by Vera Wang. You can find specific locations on the Vera Wang website.
Carolina Herrera
Originally from Venezuela, Carolina Herrera originally found an interest in fashion because of her grandmother. Herrera's grandmother was a fashion designer and trained her granddaughter in the industry.
Why She's on Top
Carolina Herrera is an award-winning designer, winning the CFDA Lifetime Achievement Award in 2008. As if that weren't enough, she has also dressed some of the most stylish first ladies of all time, including Jackie Onassis and Michelle Obama. Her wedding gowns are known for their simple elegance that skip that avoid too many details or fuss. Another thing that sets Herrera's gowns apart from the rest, is the infusion of soft colors such as pink or gray into her designs.
Where to Find Her Dresses
Carolina Herrera boutiques span the world. You can locate a specific boutique on the Carolina Herrera website. Domestic locations include Dallas, New York, and Atlanta. International boutiques can be found in Panama, the UK, Singapore, and South Africa.
Maggie Sottero
Maggie Sottero established her wedding gown design business in 1997. Since their debut, Maggie Sottero gowns have been some of the most recognized and sought after gowns in the industry.
Why She's on Top
Is fit at the top of your must-have list? Maggie Sottero gowns combine perfect cuts with impeccable style and the latest trends in couture fashion. Sottero gowns bring a modern twist to the romantic styling of wedding gowns. She's an award-winning wedding gown designer and was inducted into the Distinctive Excellence in the Bridal Industry (DEBI) Hall of Fame in October of 2010.
Where to Find Her Dresses
Maggie Sottero gowns can be found worldwide. The designer's website provides a store locator to find the store, boutique or bridal salon nearest to you.
Reem Acra
While Reem Acra is often recognized for her incredibly successful ready-to-wear collections, she actually began her career six years prior as a wedding dress designer.
Why She's on Top
With a power-packed client list that includes Beyoncé Knowles and Angelina Jolie, Reem Acra is steady source of breathtaking creations, merging a European sensibility with an American concept of luxury. Expert craftsmanship, intricate detailing such as gorgeous hand-sewn beadwork, and an innate knowledge of what looks and feels beautiful, are all signature elements of Reem Acra's bridal collections. She is also a member on both the Council of Fashion Designers of America and the Dubai Design and Fashion Council.
Where to Find Her Dresses
You can find Reem Acra bridal gowns in boutiques across the country and in her flagship New York store.
David Tutera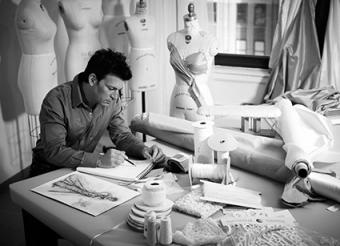 David Tutera designs wedding gowns for Mon Cheri. He is the host of the WE TV show My Fair Wedding. David Tutera often works with fellow designer Martin Thornburg on the Mon Cheri line.
Why He's on Top
David is best known for his ability to turn ordinary wedding gowns into extraordinary gowns for the brides that wear them down the aisle. He is best known for offering stylish wedding gowns that feature hand-beaded Swarovski crystals, the highest quality of fabrics and a flawless fit at an affordable price.
In addition to hosting his own TV show, David Tutera holds the award of Best Celebrity Wedding Planner by Life & Style Magazine. He has worked with and dressed celebrities, such as Jennifer Lopez.
Where to Find His Dresses
You can find David Tutera dresses at bridal salons and boutiques across the U.S., in Canada, and internationally. For more information on specific locations, you can visit his website.
Georgina Chapman and Keren Craig
Georgina Chapman and Keren Craig are the designers for the high-end Marchesa label. The two women established Marchesa in 2004. Soon thereafter, Marchesa rose to the top as one of the most popular designer gowns to wear down the aisle. Both women were born in and studied in Great Britain.
Why They're on Top
Marchesa designs are one-of-a-kind, which is why brides, even celebrity brides, covet the designs. Some celebrities that wear or have worn Marchesa include Sandra Bullock, Emma Watson, and Penelope Cruz. They are known for fusing together feminine touches with extravagant detail. Vogue states the designers are the "prom queens" of fashion events, such as Fashion Week. Marchesa designers were also finalists in the CFDA Vogue Fashion Fund in 2006.
Where to Find Their Dresses
High-end department stores carry the Marchesa line. Some of the stores that carry Marchesa include Neiman Marcus, Bergdorf Goodman, Net-a-Porter and Saks Fifth Avenue.
Hayley Paige
After graduating from Cornell University, Hayley Paige interned at ELLE magazine and was an assistant designer for Jill Stuart International. Currently, Paige is a wedding dress designer for JLM Couture, which is one of her recent design houses, and she formerly worked on the Melissa Sweet line at Priscilla of Boston.
Why She's on Top
Paige is known for her quirky style, where she mixes different types of fabrics and embellishments together to pull off a charismatic look. She is mostly known for her modern bridal gown designs. The Richest gave Paige the number 7 spot in their list of The Top 10 Most Popular Wedding Dress Designers, who notes she introduced short wedding gowns for the bride's walk down the aisle. She was also named one of the Ten Best Lace Wedding Dress Designers at BestBride101.
Where to Find Their Dresses
You can find Hayley Paige bridal gowns at Nordstrom. Her line of JLM Couture wedding gowns can be found on the line's website.
Jenny Packham
Jenny Packham is a wedding gown designer from the UK. When she launched her wedding gown design business in 1988, it changed the niche of fashion forever, with her contemporary approach to time-honored traditions in wedding wear.
Why She's on Top
Jenny Packham is one of the most recognized wedding gown designers in the UK and globally. She is one of the most successful independent brands around the world. Her clothing designs were regularly featured in the hit series Sex & the City. Her designs are worn by some of the most iconic and influential women in the world, including The Duchess of Cambridge. Packham also made The Richest's most popular list, coming in at number 6.
Where to Find Her Dresses
Jenny Packham has flagship stores in New York, Paris and London. She also has showrooms in the same cities. Bergdorf Goodman, Harrods, Neiman Marcus, and Harvey Nichols also carry Jenny Packham's line. You can visit the Jenny Packham website for specific store locations.
Peter Langner
Peter Langner is an Italian wedding dress designer. During his career, he has designed gowns for labels such as Lacroix, Laroche, Dior and Ungaro. Peter calls Rome, Italy his home base now, where he works with local Italian artisans who help him cut, sew and embroider his wedding gown designs.
He opened his first store in Rome and his second store in Madrid. His 70 stores now cover three continents.
Why He's on Top
Peter Langner is known for his stylish and refined wedding gown creations. He is the recipient of the Bridal Couture Award and the International Giuseppe Sciacca prize for his renowned work.
Where to Find His Dresses
Bridal salons and 70 stores across three continents carry the Peter Langner line. You can find information on specific store locations on the Peter Langner website.
Fashion Down the Aisle
Wedding fashion is a major business around the world. Brides want to look their best as they make their walk down the aisle to say their "I Dos." If searching for the best of the best, these wedding designers offer some of the best and exclusive wedding designs brides can find.