Stunning Sweetheart Gowns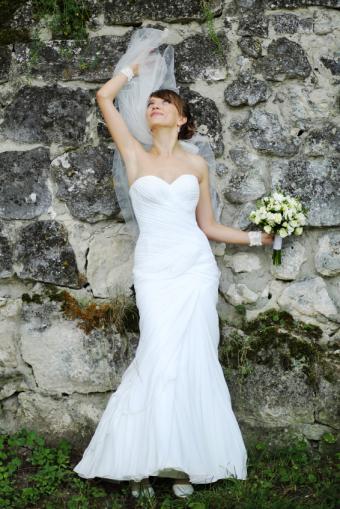 It helps to browse pictures of different wedding dresses with sweetheart necklines before deciding which style you want. A sweetheart neckline highlights a bride's beautiful décolletage while providing many sleeve and skirt options. This style enhances curves to highlight hourglass figures.
Click the "More Details" button on any of the following slides for shopping information.
Luxurious Look
Buy Now"
The sweetheart neck is perfect for a beautiful ball gown. This neckline is enhanced by a rouched bodice. The skirt cascades in gorgeous tired ruffles for a look fit for a formal or black tie wedding at a castle or cathedral. The dress comes in white and ivory in sizes 2 through 26Plus.
Floral Perfection
Buy Now"
The subtle sweetheart neckline of this A-line dress allows the flower figures to take center stage. Both the bodice and the hem of the skirt are adorned with rosette embellishments while the sash accentuates a small waist. Wear this dress at a semi-formal wedding in a garden, museum, botanical center, or courtyard. It comes in ivory and white in sizes 2 through 26Plus.
Lovely Lace
Buy Now"
The sweetheart neckline is just one feature of this gorgeous dress that comes in sizes 2 to 20Plus. This delicate a-line dress has cap sleeves made from lace, and it has skirt with appliques over gorgeous satin with a small train. The back is open and lined with lace and accentuated with buttons and a bow. It comes in both white and ivory and is perfect for an indoor wedding, whether formal or semi-formal.
Simple Sweetheart
Buy Now"
Draw the eye upwards with a ball gown that has simple styling. This taffeda, plus-size gown has a luxurious, wide waistline with plenty of glittering embroidery fit for a princess at a formal wedding in a cathedral, castle, or elegant ballroom. It comes in white/silver in sizes 16 through 24 Plus.
Flared Elegance
Buy Now"
This gown with a flared skirt is a sophisticated choice for a bride who wants a chic look at a modern or urban wedding. The sweetheart neckline is combined with lace appliques and a bead-embellished belt to help accentuate the bust and waist. The floral motif continues down body, while the edge of the flared skirt is embellished with scalloped lace and appliques, creating a stunning look regardless of what side you view the dress from. The gown comes in both white and ivory and is available in sizes 2 through 16.
Sheer Sophistication
Buy Now"
The sweetheart neckline of this gown is enhanced by the embelished sheer fabric that comes to a round neck. The short sleeves match the illusion panel's applique and beading, and the lovely full skirt is embellished with gold stitching. The lovely gown is perfect for an elegant church wedding. It is custom made, so order it to fit you exactly.
Halter Sweetheart Dress
Buy Now"
Sweetheart necklines aren't just for strapless or spaghetti strap dresses. A halter neckline can highlight shoulders while still offering the traditional sweetheart shape. The ruched bodice adds a touch of romance to this tulle and satin gown. The more modern styling is great for a formal or semi-formal wedding in a hall, museum or hotel. This white dress comes in sizes 0 through 12.
Colorful Pick-Up Gown
Buy Now"
Add a splash of color to your wedding by choosing this red and white sweetheart ball gown. The spash of white in the bodice and in the underlayer of the skirt add a touch of elegance and sophistication to this gown. Embellished with intricate beadwork, this show-stopping number is perfect for a wedding that's held in a large cathedral, hall, or castle. It's available in sizes 0 through 12.
Destination Dress
More Details"
A flowing dress with a sweetheart neckline makes it easy to pack for an informal destination wedding. This ruched bodice and detailed skirt comes in a ivory, in sizes 2 through 16.
Romantic Ruffles
Buy Now"
A romantic, ruffled gown with a sweetheart neck is fitting for weddings at historical museums, opera houses, or mansions. This dress has a ruched bodice, lace embellishments and ruffles throughout its full skirt making the ensemble memorable. It comes in white in sizes 2 to 26 plus, or you can customize the gown by sending in your measurements and color preference.
Sexy Sweetheart
Buy Now"
Dare to show off a little with a dress that features a sweetheart neckline atop a sheer lace bodice with boning. The gorgeous chiffon skirt adds a graceful touch to the surprisingly sexy top. Due to the sheer nature of the dress, it's best to skip the church and instead wear it to a wedding held in a large hall or ballroom. It comes in white in sizes 2 through 20 Plus, including petite sizes.
Mermaid Tiered Skirt
Buy Now"
This sweetheart neckline dress is a great option for a formal or black tie wedding. The tight bodice highlights a slim waist, with floral lace covering the whole bodice, past the hips. The skirt has large ruffled tiers that create a captivating look in the mermaid skirt. Choose from ivory or white in sizes 2 through 26 Plus.
Sassy and Short
Buy Now"
A short wedding dress is perfect for a casual gathering, destination wedding in a tropical location, or for the reception. This short dress has a sweetheart neckline and flirty feathers around the hemline. Light embellishment at the waist of the dress adds just a touch of sparkle to the ensemble. It comes in sizes 2 through 26W in ivory or white. You can also order this dress as a custom size.
Whether you're looking for a wedding gown that is formal or informal, or simply is one that flatters your body type, a sweetheart neckline is a great option to consider when trying on dresses.