Purple and Yellow Weddings
While purple and yellow weddings are popular in the spring and summer, they can actually be perfect any time of year. This classic color combination offers numerous possibilities from the stationary to the ceremony to the reception decorations.
Select Your Purple and Yellow Color Combination
While a yellow and purple themed wedding sounds like a self-explanatory color combo, there are several ways to carry it out.
Suggested Hues
Consider these wedding color combinations of the two hues. Don't forget that you can incorporate a third color to add depth to the scheme as well as indicate a season.
Bright purple and bright lemon yellow; add pops of pink or even teal
Bright purple and pale yellow; white, cream, or baby blue can be incorporated
Lavender and pastel yellow; pastel shades of green and pink add more color
Plum and various shades of yellow; metallic golds add shine while vibrant orange is striking
How you choose to incorporate both colors into your wedding is up to you. The two colors can be featured evenly throughout the wedding or you can choose a dominant color, using the other as an accent.
Seasonal Options
At a spring wedding lavender or pastel yellow is a great choice for the dominant color, while at summer weddings, a bright lemon yellow or bright purple is more seasonal. Choose a marigold yellow for a fall wedding and plum purple for a winter wedding. This color combination is so versatile, you can find a way to make it work whatever season your wedding takes place in.
Planning Your Purple and Yellow Wedding
Stationary, attire, flowers, and ceremony décor can all carry out your yellow and purple wedding theme.
Invitations and Stationary
The first place to start planning a purple and yellow wedding is with your wedding invitations. A yellow invitation with a metallic purple font is a vibrant option that lets guests know your color scheme. Simple white or ivory invitations with a small graphic or embellishment in purple and yellow is another way to incorporate the colors into your stationary. Remember to pick up matching programs and thank you cards for after the wedding, too.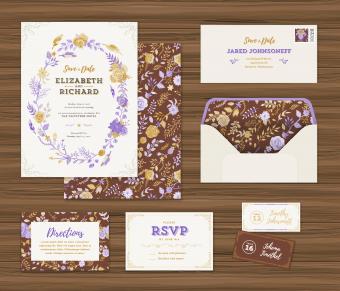 Attire
Attire is one of the easiest ways to incorporate the purple and yellow color scheme into your wedding. Put bridesmaids in a purple or yellow dress, or have them wear a black dress with a purple or yellow sash. Men can don ties, bow ties and vests in either purple or yellow. Even the bride can purchase a colored wedding dress in purple or yellow.
Flowers
Create beautiful wedding bouquets using the purple and yellow scheme. Consider having mixed bouquets featuring both colors; alternatively, bridesmaids can carry the color opposite or the same of their dress or sash. Brides could carry a mixed bouquet, or they could carry either purple or yellow flowers, with the bridesmaids carrying the opposite. Altar bouquets and accents should feature both colors, with the dominant color being more prominent than the accent color. Feel free to add some greenery, baby's breath, or even another color bloom as filler to help break up what could become an overwhelming color scheme.
Ceremony Decorations
The ceremony should be decorated so that it stands out with your colors. Utilize your accent colors as well as the shades you see in the natural setting, whether you're indoors or out.
Front of Ceremony
A bridal arch can be added to a ballroom or set up outside. Use colorful tulle to accent it, adding florals as well. For ceremonies with a table or alter, set up yellow and purple floral arrangements. Utilize columns flanking the altar and table so the arrangements will highlight your faces and draw people's eyes up.
Pews and Aisles
Pew decorations are a great place to add a pop of color. Use a purple bow with a yellow bloom in the center for a pretty decoration, or vice versa. If you're planning an outdoor ceremony, you'll want to have something to decorate the end of each aisle. This could be a shepherd's hook with bouquet or candle or even large vases with colored water and candles.
Yellow and Purple Reception Ideas
The reception offers numerous areas to incorporate your purple and yellow wedding color theme.
Head Table
Style the head table so that you're the focal point of the evening. Hang lilac and yellow tulle behind the table for a spring or summer event while a velvet backdrop in eggplant looks striking in the winter. Have a floral swag added to the front of the table above draped cloth that matches your backdrop. Wrap the bride and groom's chairs in the opposite color as the bridal party's chairs.
Guest Tables
Decorating the tables for your wedding is simple once you've figured out your color scheme.
Linens - Cover the table in one color and add a runner in the secondary color. Make sure napkins match the color scheme and tie a sash around the chairs in either purple or yellow.
Tableware - Utilize gold servingware so that it matches the yellow in your color scheme. Plates can be plain white or cream, or go with something that features a small purple flourish.
Centerpieces - Candles are an eye-catching centerpiece, especially when you select LED tea lights that have a faint violet hue. Alternatively, large flower bouquets featuring your main colors can be placed on the table down the runner, in a low wooden vase, or even in an elegant crystal vase that stands above everyone's head.
Wedding Cake
A traditional white cake can have purple and yellow roses, tulips, or daises; or you can have a pale yellow cake with purple butterflies adorning it. Purple and yellow polka dots or stripes are excellent choices for a modern design, while a mad hatter cake with this scheme is also fun to create. At a winter wedding, you might go with a cake that reflects the chilly plums of the season and add a few creamy yellow roses to break up the dark design.
General Decor
Have the wedding DJ using purple and yellow spotlights on the dance floor throughout the evening. Replace window drapes with ones that match the rest of the fabrics in the room. Choose a wedding backdrop that features purple and yellow. If you are including balloons in your decorations, such as in an archway, make sure they match the rest of the purple and yellow décor.
Beautiful Hues for Your Wedding
Purple and yellow weddings are a beautiful choice no matter what time of year. Include this lovely color scheme in everything from the invitations to the reception cake and it will create an eye-catching theme without going over the top.