Beach brides know that they may have to contend with winds coming from the lake, sea, or ocean. A bridal hair piece can help keep their 'do in place while adding elegance and style.
Pinned Side Flowers
A soft wedding updo calls for a similar hair accessory. Pick individual small blooms and keep the stems attached. Pin them onto the side of your head. You can do one or both sides. Simple white flowers do the trick for this bride's lovely style.
Hairdos With Seashell Strands
Seashells are the perfect accessory for an ocean-side beach wedding. Seashells that have been strung on necklaces can be wound around a messy bun at the top of the head or the base of your neck. The seashell strands could also serve as a headband if you circled your head and pinned them in place.
Baby's Breath Garland
Loose, beachy waves call for a headpiece that fits with the casual beach aesthetic. This baby's breath is a lovely option for any bride who wants to stick with a rustic beach feel for her wedding day. Daisies, lilies, plumeria, and hibiscus are also all good options for floral garlands.
Bright Tropical Flowers
Tuck a couple blooms of vivid tropical flowers behind one ear for a splash of color perfect for a seaside ceremony. Purple plumeria makes a statement here, but shades of orange, blue, or bright pink would be equally appropriate. Tucked fresh flower hair pieces work well for virtually any hairstyle, from sideswept down 'dos to braided styles to updos. Pin them in place for staying power.
Boho Lace Headband
Beachside ceremonies might have a boho feel to them. If this is your vibe, you'll want to reflect it with your selection of hair accessory. This bride's loose waves are accented with a lace ribbon that cut across her forehead. It's knotted to the side and the long ends are left loose.
Beaded Forehead Band
A beaded forehead band adds elegance to a wedding ceremony on the beach. Look for a style with a large sapphire or aquamarine stone in the center to reflect the blue of the water. This looks good with braided styles, loose waves, and low buns.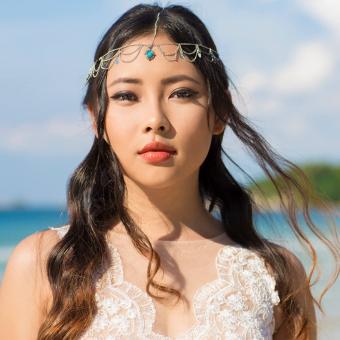 Floral Headband Style
A basic floral headband holds loose strands in place for updos and keeps flyaways out of your face if you pair it with hair styled down. Classic white adds an elegant feel to the beach style, and it pairs perfectly with a wedding veil attached in the back of the head.
Waterside Feather Accessories
Feathers are a unique hair accessory that can be matched to whatever style or theme of wedding you're planning.
Elegant White Option
Brides with a smooth updo and more formal gown might want to stick to a traditional feathered hair clip. This one works well above a low bun in the back or clipped behind the ear.
Rustic Country Feathers
If you're planning a country wedding on a beach at a lake, pond, or river, a more rustic look is appropriate. This bride has a simple headband with brown, tan, and black feathers attached. The feathers stand out against her simple straight style and would also look great if you have a short bridal hairstyle.
Rhinestone Hair Accessories for the Beach
Just because you're on the beach, doesn't mean you can't have more traditional rhinestone hair accessories. However, keep things simple so your style doesn't look out of place. For example:
Select a small rhinestone tiara attached to a comb instead of a larger princess crown.
Skip the bejeweled headband and instead pick up a couple smaller barrettes that can be placed on the side of your head to keep hair out of your face and eyes.
Pick up small rhinestone snaps to add throughout your hair that will dazzle against the sun and sea.
Gorgeous Hair Accessories for Beachside Weddings
It doesn't matter whether your beach is at a local water hole or it's in an exotic destination location. What matters is matching your accessory to your hairstyle. When you keep that in mind, you're sure to select the right one for your seaside nuptials!