3 Wedding Guest Outfits That Don't Require Heels
Your toes cry in protest while the bride walks down the aisle, the straps dig into your feet during cocktail hour, and you darn-near lose your balance dancing the Macarena. Ugh, wearing heels at weddings is the worst!
But who says wearing stilettos or pumps are a requirement?
Though we may wish the newlyweds a happy marriage 'til death do 'em part, we have no problems bidding adieu to heels at weddings. There are other ways you can turn heads at the reception without wobbling around on stilts.
1. The Gliding Gown
We've all had the misfortune of seeing that one fed-up wedding guest dancing barefoot because of her killer heels. Trust us, you don't want to be that woman. A gliding gown will help you avoid showing everyone your oh-so-lovely calloused feet. But what, exactly, is a gliding gown, you ask? They're long dresses that seem as though the hem is sweeping the floor, but not quite. They give the illusion that you're floating on thin air - as if you're an angel that has descended from the heavens to have a go at the Cha Cha Slide.
And the best part is, no one will be able to see your feet! You can wear lime green Crocs for all you care. But - er - don't actually wear lime green Crocs. No one should wear those. Ever.
A few examples of the gliding gown include Lord & Taylor's beaded gown, Viola Chan's jade deep-V dress, and Jill Jill Stuart's mermaid gown.
Tips:
Make sure the hem is slightly off the ground so that you don't trip.
Although no one can see your feet, you should still wear wedding-appropriate shoes, such as embellished flats.
Do not wear a white gown. You'll get death stares from the bride all night.
2. The Jazzy Jumpsuit
While everyone else is wearing ho-hum floral frocks, you'll be dazzling the room with a jumpsuit. And not just any ol' jumpsuit, but a jazzy jumpsuit, meaning one with an eye-catching detail that makes your jumpsuit stand out as a formal one-piece.
Taking pointers from fashionable stars such as Emily Blunt and Nicole Scherzinger who wore pointed-toe shoes with their jumpsuits, you can wear the same shoe style, but nix the heels. Pointed-toe flats are your friend! They add an element of sleek sophistication sans the awful sore feet. Plus, the pointed toe helps to create the illusion of a longer leg, just like their heeled counterparts. And just like the gliding gown, you can also opt for a floor-sweeping jumpsuit.
Make an unforgettable entrance with Mon Cheri's formal jumpsuit, Mac Duggal's beaded jumpsuit, or Asos's wrap front jumpsuit.
Tips:
Don't forget your clutch! It will be a stylish addition and will help make your jumpsuit a little more formal.
Make sure the jumpsuit has a "jazzy" detail, such as lace, beading, or a plunging neckline.
Don't over-accessorize. Less is more with jumpsuits.
3. The Knee-Length Knockout
Maybe gowns and jumpsuits aren't your thing, especially if you want to catch the eye of any unattached wedding guests with your gorgeous legs. If that's the case, knee-length dresses (or shorter) might be your cup of tea. With this look, however, there's no hiding behind ground-gracing hemlines.
If you want to stop traffic while not wearing heels, wear flats or sandals that add a little va-va-voom to your look. Adorn your feet with metallic, bejeweled, lace-up, or shimmery shoe styles.
Some suggestions include Halogen's metallic leather flat, Marchesa's crystal sandals, and Steve Madden's pointed-toe flats.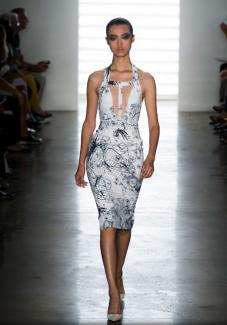 Tips:
If you're wearing sandals, paint your toenails with a color that flatters your dress.
Choose strappy flats to elongate your legs, as suggested by Edgardo Osorio, founder of shoe label Aquazurra.
Get shoes that work with your dress; remember that black, gray and nude go with almost everything.
While there are definitely things you should never wear to a wedding, these three heel-less outfits are definite musts! Whether you're wearing a gliding gown, a jazzy jumpsuit, or a knee-length knockout, find comfort in knowing you can finally dance the Electric Slide without torturing your poor feet!