Indian Wedding Attire for Men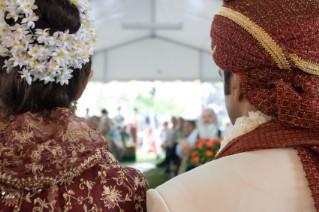 Choosing Indian wedding attire for men in your bridal party can be hard if you are unfamiliar with the culture and customs. With the help of your soon-to-be in-laws and fiancée, getting something you are comfortable in that fits with tradition can be easier.
Having a wedding ceremony that incorporates other cultural rituals in addition to conventional American wedding traditions is becoming more common than ever before. Likewise, some couples are even opting to have two ceremonies, one Indian ceremony and one traditional American ceremony, each honoring the other's heritage. Whatever your choice, wearing garments from the culture is a way to honor your spouse's background.
Traditional Men's Indian Bridal Party Attire
The bridal party in Indian cultures, like most of American wedding parties, is often dressed more formally than guests. Although some men are choosing to wear a more traditional "western" three piece suit, they often save this for a reception and opt to don customary garb for their weddings. Just as the bride's Indian wedding dress is unique and special, so too should the groom's attire.
Sherwani
A Sherwani is a long coat-like jacket fastened with buttons. It comes to just below the knees, hitting somewhere high on the calf. The jacket has a Nehru collar, which is a collar that stands up (sometimes called a "mandarin" collar).
This jacket is often cream, light ivory, or gold colored for weddings, especially those in the morning. It can be embroidered with gold or silver. While traditionally light in color, the jackets can be worn in dark colors, like reds, blacks, or navy, typically later in the day. A scarf is sometimes added to the jacket over one or both shoulders.
The Sherwani is worn with tighter fitting pants or trousers called churidars. Churidars are trousers that are loose around the hips and thighs, but are tight and gathered around the ankle.
Jodhpuri
A Jodhpuri suit is a majestic looking suit, sometimes referred to as a "prince" suit. It has a western three-piece look, including coat, trousers, and possibly vest. The Nehru collar is often on the jacket and/or shirt worn with the suit.
This suit would be a perfect choice for the groom in a bridal party. He could choose one with hand-stitched embroidery in silver, gold, or other color in an elegant design.
Kurta Pyjama
The Kurta pyjama is a traditional dress of men in India. It features a loose fitting, collarless long shirt over a pants in a complementary or contrasting color. The style of the Kurta can be either formal or informal, depending on the fabric or embroidered design.A veshti (dhoti) is a long, flowing skirt considered formal wear for men in India. The draping of the skirt depends on the region in which one is from. The Kurta is often worn with the veshti.
Indian Wedding Attire for Men: Accessories
As with any groom, an Indian man will want to accessorize his outfit. As mentioned, scarves draped over shoulders (or perhaps tied around the waist) are popular choices to accentuate the formal attire.
Turbans can be worn by Indian men of certain faiths, perhaps with a sehera tied to the front. Sehera is a veil of flowers said to ward off the evil eye, much like the American custom of the bride's veil.
Mojris and jutties are often colorful and ornate pieces of footwear. They often include beading and embroidery and can complete the men's look.
Where to Shop
If you are planning an Indian wedding ceremony in the United States or outside of India, you can find a number of online retailers who can make your traditional Indian wedding attire for men. Visit these retailers for more information:
Look into ethnic boroughs of large cities to find retailers who make men's Indian formal wear. You can also check online auction websites, such as eBay.
---
The Indian wedding attire for men that you choose to wear not only represents your faith or your spouse's faith, but should reflect your personality and feelings regarding clothing as well. A wedding is a highly symbolic celebration in any culture, and taking care with your attire will make it even more meaningful.